Maintenance, on us.
You're in luck. Every new 2020 Hyundai gets Hyundai Complimentary Maintenance for 3 years or 36,000 miles (whichever comes first).⁠
Hyundai Complimentary Maintenance
Complimentary maintenance includes Hyundai approved oil and oil filter change (except for electric vehicles and fuel cell electric vehicles) plus tire rotation at normal factory scheduled intervals for 3 years or 36,000 miles, whichever comes first. Offer valid only for new 2020 - 2021 Hyundai models purchased or leased on or after February 1, 2020, excluding NEXO. See your Hyundai dealer for further details and limitations.
TERMS OF Hyundai Complimentary Maintenance PROGRAM (HCM)*
· Complimentary on all new Model Year 2020 - 2021 Hyundai retail vehicles sold on and after February 1, 2020, excluding 2021 Nexo. (Hyundai retail vehicles purchased before February 1, 2020 do not qualify for HCM).
· Available on all Hyundai models, excluding 2021 Nexo.
· Covers oil and oil filter changes, and tire rotations, Normal Maintenance Schedule Intervals only. See the Owner's Manual for each vehicle model for full details.
· 3 years / 36,000 miles of coverage, whichever comes first.
· HCM services are only available at authorized Hyundai servicing dealers.
· Each service must be obtained within 1,000 miles or 1 month of the designated time listed in the Owner's Manual. A customer's failure to redeem services prior to the expiration of the applicable mileage/term will not void any unredeemed future services.
· Commercial, Certified Pre-Owned, used, and fleet vehicles are excluded, but professional use, i.e., realtor or outside sales, is allowed.
· Complimentary maintenance is not transferable; available to original owner/first retail customers only (except it can be transferred from spouse to spouse).
· Only covers basic services listed in the Owner's Manual at the time specified. Normal wear and tear items such as engine and air filters, cabin filter, wiper blades, brake pads, etc. are not covered. Any additional maintenance due to severe driving is the customer's responsibility.
· Does not cover services or repairs listed as "inspect" in the Owner's Manual. Any recommended services and inspections outside of oil and oil filter changes, and tire rotations will be subject to charge.
* Some terms vary by state. Rates and reimbursements disclosed are subject to change without notice. Hyundai Motor America reserves the right to amend, alter, or cancel this program, including its terms, at any time.
Blue Link Package Details
2021
KONA Electric
SEL
Standard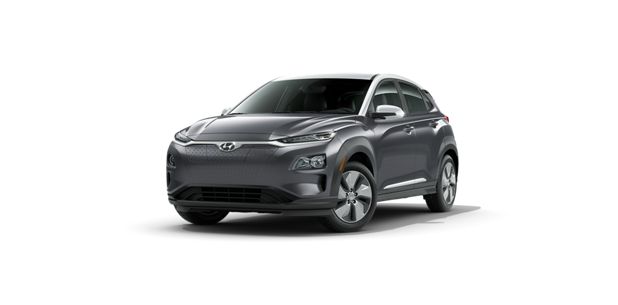 Standard on most new Hyundai vehicles, this comprehensive safety and car care package offers peace of mind. In the event of an accident, no matter where you are, trained operators are standing by to provide assistance and emergency help.
Automatic Diagnostic Trouble Code Notification
⁠
Receive an automatic diagnostic notification in the event a warning indicator is activated.
Monthly Vehicle Health Report
⁠
Receive a vehicle health evaluation of key vehicle systems along with a snapshot of your current mileage.
Service Link
⁠
Conveniently schedule a Car Care Appointment with your preferred service dealer right from your vehicle.
Maintenance Reminder
⁠
Receive notifications in advance of regularly scheduled maintenance intervals for your Hyundai.
Driving Information
⁠
Enhance your driving experience and improve your driving habits with key visual metrics from your most recent trip.
On-Demand Diagnostics
⁠
For added peace of mind, run an in-vehicle diagnostic system check and receive recommendations if an issue is found.
Automatic Collision Notification (ACN)
⁠
In the event of an accident with a deployed airbag, your vehicle will automatically contact the Blue Link Emergency Response Center. If needed, the agent will dispatch emergency assistance and remain on the line.⁠
Blue Link agents will contact existing emergency service responders. Only use Blue Link and corresponding devices when it is safe to do so.
Enhanced Roadside Assistance
⁠
Blue Link provides your vehicle's location and account information automatically so you don't have to worry about knowing where you are when you need assistance.
SOS Emergency Assistance
⁠
Request emergency assistance 24/7, 365 days a year, by pressing the dedicated SOS button in your vehicle.⁠
Blue Link agents will contact existing emergency service responders. Only use Blue Link and corresponding devices when it is safe to do so.
Blue Link Mobile App
⁠
The smartphone app provides easy access to remote features and additional services on most Apple and Android devices.⁠
App and app images are subject to change. App supports all Blue Link equipped Hyundai models.
Blue Link Enrollment includes 3 years of the Blue Link Connected Care, Remote and Guidance (if equipped with factory-equipped Navigation) Packages for 2018 model year or newer vehicles and requires an active Blue Link subscription agreement subject to the Connected Services Terms and Conditions. Three-year term starts from the new vehicle date-of-first-use and is available for new 2018 model year or newer vehicle purchases and leases as well as transferrable to subsequent owners subject to the Terms and Conditions. Only use Blue Link and corresponding devices when safe to do so. Cellular and GPS coverage is required. Blue Link is available on most new Hyundai vehicles. Features, specifications, and fees are subject to change. For more on details and limitations, visit HyundaiUSA.com or your authorized Hyundai dealer.
You can access the Blue Link features on your Hyundai quickly and easily via the web or smartphone app from virtually anywhere. This package makes everything from locking your keys in the car to dealing with a stolen vehicle, more manageable
Remote Door Lock / Unlock
⁠
Lock and unlock your vehicle doors from virtually anywhere via the web or smartphone app.⁠
After Blue Link unlocks the doors, they will remain unlocked for 30 seconds. This auto relock is designed to enhance vehicle security by relocking the doors if the doors are not opened within 30 seconds.
Remote Horn & Lights
⁠
Activate your vehicle's Horn & Lights remotely to enhance safety and security or to find your vehicle in a crowd.
Remote Start with Climate Control
⁠
Start your Hyundai remotely via app or web and set the engine timer, cabin temperature, front defroster or simply remote stop the engine if you change yourmind.⁠
Remote Vehicle Start is only available for Push Button Start equipped vehicles with an Automatic Transmission or a Dual Clutch Transmission (DCT). Not available on all models. Remote Climate Control available on properly equipped models with Fully Automatic Temperature Control. Remote Stop is only available while the vehicle is in Remote Start mode.
Car Finder
⁠
Use your smartphone app to quickly locate your Hyundai on the map or tag its location for future reference.⁠
Smartphone GPS location must be within 1-mile radius of vehicle's location to display searched location.
Stolen Vehicle Recovery
⁠
Once you have filed a police report for your stolen vehicle, Blue Link can assist the police in locating and recovering it.⁠
This feature is subject to adequate cellular coverage, signal strength, and battery power, and only available in the 50 United States. You must be an active Blue Link subscriber or within the initial free trial period to receive Blue Link services.
Stolen Vehicle Slowdown
⁠
Law enforcement can gradually reduce engine power of a stolen vehicle bringing it safely to a complete stop.
Vehicle Immobilization
⁠
Law enforcement can immobilize the engine of a stolen vehicle to prevent it from being restarted before recovery.
Alarm Notification
⁠
Upon activation, the owner will know when and where the vehicle's security has been compromised.
Curfew Alert
⁠
Pre-set time intervals for when your Hyundai can and cannot be driven. Receive an alert if it exceeds them.
Geo-Fence
⁠
Designate boundaries and monitor your Hyundai's movements in and out of them.
Speed Alert
⁠
Pre-set a speed limit for your vehicle and receive an alert when that speed is exceeded.
Valet Alert
⁠
Rest assured when dropping-off your Hyundai with the valet. Receive an alert if your vehicle travels beyond your pre-set limit from the drop-off point.
In-Vehicle Safeguard Alerts App
⁠
This in-vehicle app has a suite of services that put you in control of your Hyundai. Know how your vehicle is being operated with Curfew Alert, Speed Alert, Valet Alert and Geo-Fence Notifications.⁠
App and app images are subject to change. Not available on all models. Vehicle must be in park to access the app.
Blue Link Enrollment includes 3 years of the Blue Link Connected Care, Remote and Guidance (if equipped with factory-equipped Navigation) Packages for 2018 model year or newer vehicles and requires an active Blue Link subscription agreement subject to the Connected Services Terms and Conditions. Three-year term starts from the new vehicle date-of-first-use and is available for new 2018 model year or newer vehicle purchases and leases as well as transferrable to subsequent owners subject to the Terms and Conditions. Only use Blue Link and corresponding devices when safe to do so. Cellular and GPS coverage is required. Blue Link is available on most new Hyundai vehicles. Features, specifications, and fees are subject to change. For more on details and limitations, visit HyundaiUSA.com or your authorized Hyundai dealer